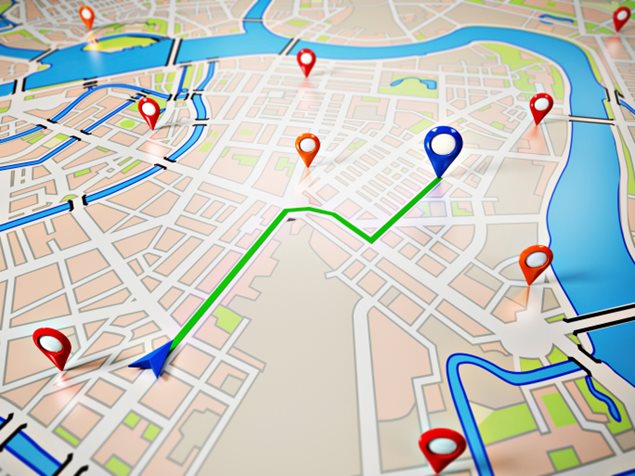 Location based applications actively deliver online content to users based on their physical location. These apps use your phone's GPS, wireless access point, or infrastructure to identify where a given device is located. Once a user gives access to a location based application, they can in turn be provided with a wide array of resources such as nearby restaurants, alarms that get triggered when they walk by a specific store, or notices about nearby retail store sales
Not only do these applications create better marketing opportunities for businesses, but they also have the ability to enhance social media connectivity amongst users. Location based apps are expected to grow globally over the next few years because of the many possibilities that they can introduce.
For example, traffic apps could potentially alert you of an accident that was reported 3 miles ahead of you. Those that are close to the scene could instantly connect via text, video or photo updates, responding a lot quicker than traditional sources.
There are many companies producing location-based applications for the rising mobile industry. Location-aware content offers personalized marketing and convenience to the user. It is a win-sin situation. Consumers can locate services while walking around town, and it is just as easy as using a search engine like Google. Businesses can take advantage of more tailored marketing.
Mobile devices appeal to people who want their information quick and simple. Located based apps offer more data about our surrounding environment than any other applications. As location-based technology advances, we can make apps that are more effective at predicting what consumers would like to know about their geo-space.
Look at the way that location based apps have changed journalism. Through the use of mobile devices like smartphones and tablets with GPS technology, it is now possible to message users about news that is relevant to their location, not only at a local level, but also at a hyper-local level.
Advertisers will be able to go beyond the local and into the hyper-local as well. They can scope in on hyper-local advertising tactics. As appose to marketing to an entire city, they could market to a specific neighbourhood or block.
Some of the largest companies such as Google, Yahoo, Apple and Microsoft are rushing to acquire location-based mobile platforms. This trend is a reminder of the importance of location advertising; none of the large players want to be left out of the game.
What is most interesting to marketers is that the geo-location of consumers are directly linked to their own shopping behaviours, which is not always the case with online marketing. Whether a person is looking for a good place to eat or buy a pair of shoes, they usually rely on their mobile devices and physical location for guidance.
Some of the most popular campaigns that we are seeing include incentives with alerts. These usually include special gifts, sales, or discounts that get activated once a customer walks into a venue.
For example, a recent Taco Bell promotion had a proximity alert feature, which also included a reminder. Therefore, when a user got close to a Taco Bell store, the application reminded them of a happy hour promotion that was taking place. It is a lot more effective to target someone when they are at a specific location.
Companies that do not catch up with location-based marketing and apps could risk losing large market share to tech savvy competitors. In the next couple of years, locations based apps may rule the mobile world.