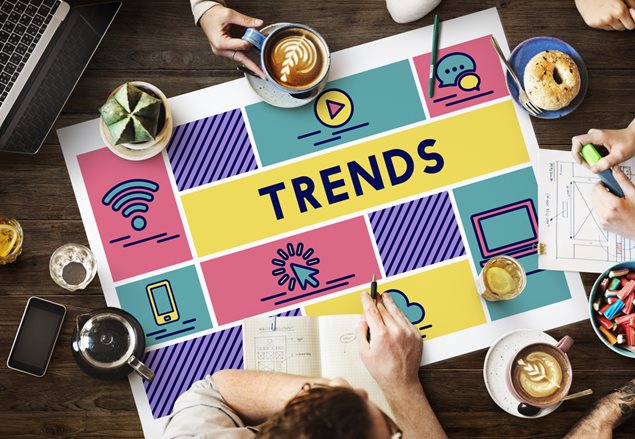 UI design is a constantly evolving field. What was hot over the last few years may now be out of favour. Just as home interior decorating trends change, so too do the UI design trends of software, web apps, apps, and websites. If you're developing and want an amazing user interface that really resonates with your users in 2020, then look no further than these emerging design trends.
Micro animations
Just because you don't have an expert illustrator on the team doesn't mean that you have to miss out on this growing trend. Micro animations are small animations that help the user to understand (and potentially interact with) a design element more easily. A common micro animation is a loading animation that you see on many web apps. Designers can use tools like invision and UXPin to develop these small animations - however, the strategy behind why they're being developed is just as important as the end product.
Dark mode
The world's gone dark. Well, not really, but dark mode is becoming a regular staple of people who aren't just programming geeks. Once only known about in tech circles, dark mode is coming into the light - due to the benefits of using this style of UI and new support from iOS. Dark mode allows viewers to see web elements with a dark background and lighter text, which is easier on the eye in dark environments. Better for the viewer? That means better for UI. Developing a dark mode colour scheme for your app, web app, or website is a clever activity in 2020.
New typography
With another year comes a progression in the font types that are really resonating with users. For websites, there is a trend towards 'humanized serifs.' These are serif fonts that remind us fondly of days gone by, a boutique feel that's cozy but with a modern twist: Times New Roman this is not. For apps, the main fonts you will see will be rounded serif fonts and Swiss-style typography for apps that have a more scientific or serious tone.
Using empty space for impact
Want more impact from your app screens? Do less. If you take a look at modern apps, you'll see that important screens will be very minimal - calling to attention a very specific piece of information or action to take. Rather than popups, using blank space on full overlay screens has the same effect without the clutter. Design your important screens with plenty of blank spaces, whereas you can have plenty of information on your overview screens.
Voice interface
Hey Siri! If you really want to give something your audience wants, then consider adding a voice interface to your applications. With people becoming more and more accustomed to using voice to control their devices and apps, building this technology into your app can be really effective. If you have the cash to splash, consider adding basic voice commands for useful functionality.
Skeuomorphic design
What on earth is Skeuomorphic design? It's a style of design that is used to mimic real-life, tangible objects. This is in the form of buttons that look like real buttons, backgrounds that look like real-world surfaces, and other elements that look positively realistic. Skeuomorphic design used to be a common style in 90s applications (think the raised, grey Windows OK buttons) but had gone out of favour over the past couple of decade. However, now that our ability to really recreate a physical, natural feel is here, we are seeing a comeback in action.
Storytelling
Whether you're developing a serious application or a just for fun website, your users will all be humans. Robotic, functional text does not make for interesting copy, no matter the application. Use storytelling to really draw the reader in and keep their interest. Even if you're developing an app they have to use, you don't want users to hate reading through your help pages and tool tips.
At CodeFirst we don't just do functionality well. We also do look, feel and interactions that make for a slick UI. If you're looking for first class developers to help on your boutique software project, then look no further. Ask us for a consultation today.